Happy Vet Tech Appreciation Week! While we appreciate our techs every day, this October 11-16 the whole nation celebrates our vet techs and their work. Vet techs keep our practice moving and we could not do what we do without them.
What is a Vet Tech?
A veterinary technician (or nurse) is an individual who has received training to assist in veterinary examinations and procedures. They often attend an intensive program to learn the basics. Afterwards they can pursue becoming licensed.
What do our Vet Techs do?
They do so much for us, our patients, and our clients, including:
•Patient handling
•Anesthesia/surgical monitoring
•Patient treatments
•Grooming
•In-house diagnostics
•Filling medications
•Client education
There are numerous other tasks and treatments they help us with. We wouldn't be able to run the clinic without their dedicated service and care for our patients!
Thank you Exotic Vet Care Vet Techs!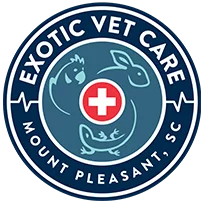 Our exotic animal hospital is dedicated exclusively to the care of birds, exotic small mammals, reptiles, and even fish! We can offer everything your pet needs for a healthy and happy life, from wellness care and grooming to diagnostics and dentistry, but we can also provide emergency care during our opening hours, along with more specialized treatment for referred patients.