"Scooter" is a 23-year old female blue and gold macaw who came to us as an Emergency Admission on July 4. She had suffered with vomiting and diarrhea for a few days prior. Upon examination she had urate and fecal matting around her vent but after administering some fluids and pain medication she was stable enough for a sedated radiograph, which revealed a large egg stuck in her tract.


Our veterinarian gave her some treatments to try and help her body pass the egg, but when no egg was produced after an hour, the decision was made to physically remove the obstruction. "Scooter" was taken into surgery and the egg successfully removed, much to her (and her family's) relief.


In cases like this, the most important thing is to prevent recurrence, so a hormone suppression implant was recommended. The implant is generally effective for 6 months, and may be combined with shorter-lasting hormone suppression injections that start working right away.
"Scooter" went home with her grateful family that afternoon on antibiotics and pain medications to continue her recovery.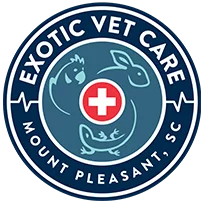 Our exotic animal hospital is dedicated exclusively to the care of birds, exotic small mammals, reptiles, and even fish! We can offer everything your pet needs for a healthy and happy life, from wellness care and grooming to diagnostics and dentistry, but we can also provide emergency care during our opening hours, along with more specialized treatment for referred patients.