MOST DOGS AND CATS ARE STERILIZED, WHY NOT MY PET RAT?

Because most rat owners are unaware of the benefits. Both male and female rats are prone to developing mammary tumors. It has been shown that early age spay/neuter significantly reduces the risk of these tumors occurring later in life. Rats can reproduce at an early age, sterilization allows males and females to be kept together.
WHAT ARE THE DIFFERENT TYPES OF PROCEDURES?

The most common form is surgical (spay or neuter) where we remove the testicles of males and most of the reproductive tract in females. With many years of experience we have developed a technique for female rats that is much less invasive than the conventional approaches. Like most surgeries, it involves general anesthesia to avoid undue pain and stress to the patient.
For female rats that are at high risk for anesthesia due to age or health concerns, a medical approach can be used that lasts between 10-12 months. A rice-size implant (Suprelorin) is placed between the rat's shoulder blades, which slowly releases a hormone suppressant over 6-12 months. The anesthetic for this is quite short, under 5 minutes.
WHAT IS THE DIFFERENCE IN COST BETWEEN MEDICAL AND SURGICAL STERILIZATION?
The cost of each is similar. The main advantage of surgical sterilization is that it is a one-time expense vs. medical in which the implant needs to be repeated every 10-12 months under anesthesia.
WHERE CAN I GET MORE INFORMATION?
At Exotic Vet Care we are available to provide information via email, phone or by booking an appointment with us.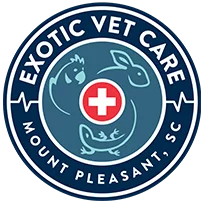 Our exotic animal hospital is dedicated exclusively to the care of birds, exotic small mammals, reptiles, and even fish! We can offer everything your pet needs for a healthy and happy life, from wellness care and grooming to diagnostics and dentistry, but we can also provide emergency care during our opening hours, along with more specialized treatment for referred patients.