Spring has sprung, and while it brings us lovely things like sunshine and flowers, it also brings some not-so-lovely things.
Fleas!
While they never truly leave us here in South Carolina, the cold weather has kept fleas fairly dormant. Now is the time when they are itching to come out and bug us again. Everyone knows cats and dogs get fleas, so they are typically treated by their responsible pet owners as a given. Rabbits and ferrets can also be a feast for fleas and require specialized treatment.
A checkup is needed so we can determine the severity of infestation and prescribe appropriate prevention, and a fecal analysis should be performed to make sure these little biters haven't passed on any hitchhikers in the form of tapeworms or other undesirables to your pet. Severe flea infestation can cause anemia, which can require additional treatment and can become life-threatening if left untreated.
Tapeworms!
Transmitted by fleas, these squirmers were stealing nutrients from a rabbit. Proper treatment eradicated them.
Heartworms!
Carried and transmitted by mosquitoes, heartworms are untreatable and fatal to both cats and ferrets, necessitating year-round prevention in South Carolina. Despite their name, our mosquitoes have no QUIT in them. Luckily, heartworms in ferrets are easily prevented with prescribed monthly topical or oral treatment.
NEVER USE A PRODUCT INTENDED FOR DOGS ON YOUR RABBIT OR FERRET!
These products can be deadly.
Keep your pets safe and comfy so you can enjoy the season together. Give us a call to get your pet protected before you have a problem. Prevention, as they say, is the best medicine!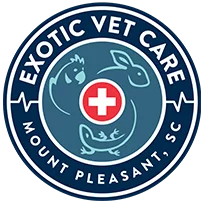 Our exotic animal hospital is dedicated exclusively to the care of birds, exotic small mammals, reptiles, and even fish! We can offer everything your pet needs for a healthy and happy life, from wellness care and grooming to diagnostics and dentistry, but we can also provide emergency care during our opening hours, along with more specialized treatment for referred patients.