"Quackers" is a Muscovy duck. He was brought to us after his owner noticed him limping on his left leg for a week. Radiographs showed a closed fracture of the leg with some early callous formation due to his attempts to walk on his broken leg.

We performed orthopedic surgery on "Quackers", removing the excess bone and placing several pins to keep the bone properly aligned during the healing process. The surgery took approximately two hours, and "Quackers" recovered well. He was given antibiotics to prevent infection and analgesics to prevent pain. His owner was instructed to perform gentle physical therapy at home and "Quackers" returned to us for twice-weekly more intense physical therapy sessions under anesthesia to help improve and preserve the leg's function and range of motion.

After two months of recuperation and therapy, the pins were removed and "Quackers" was given a clean bill of health, ready to return to his flock. Here he is with a couple of his "girlfriends" (he is the one standing in the back), fully recovered and ruling the roost. We are very proud of "Quackers" and his owner for committing to the treatment plan necessary to ensure a good outcome.

CASE UPDATE 10/30/13:
We have just received a message from "Quackers' " owner that he is the proud papa of ten adorable ducklings, hatched 10/24/13. Congratulations!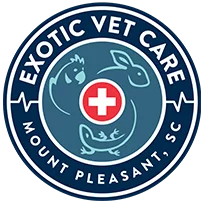 Our exotic animal hospital is dedicated exclusively to the care of birds, exotic small mammals, reptiles, and even fish! We can offer everything your pet needs for a healthy and happy life, from wellness care and grooming to diagnostics and dentistry, but we can also provide emergency care during our opening hours, along with more specialized treatment for referred patients.