This macaw was out of state with her family when she started acting abnormally on a Friday. Her owners searched for a qualified vet, but no one was able to help. They were able to get her into an emergency clinic and had an x-ray which confirmed there was an egg present. She has never laid an egg before. The ER vet gave her a calcium injection and an anti-inflammatory pain reliever injection, but by the time her family reached out to us by phone on the following Monday they were considering humane euthanasia because they were worried she was in great pain and suffering and they were still out of state. We talked, and after some discussion found that she was still eating and able to pass feces even though her vent was extremely swollen and inflamed. They cut their trip short and raced home with her, bringing her in first thing Tuesday morning.
She was obviously uncomfortable and had a palpable protrusion where the egg remained in her lower abdomen. She had lost some weight and her keel bone was a bit more prominent than usual, and she was a little dehydrated. We gave her medication to relieve pain and offer sedation. Once she was sleepy, we collected a small amount of blood and took her x-rays. Fortunately on the x-rays she had only the one egg. The blood work she showed no significant signs of organ damage, her electrolytes were quite good, and she had normal calcium. For an egg stuck so long, this is VERY good bloodwork!
With one large egg to remove, our Dr. and staff got to work. She was carefully positioned and monitored while her egg was extracted. Our Dr. was able to use lubricant and strong pressure to gently expand the opening to her reproductive tract and expel the egg without having to break it. This was excellent news as she did not have shell fragments or yolk in her uterus that can linger and cause infection.
She was given a deslorelin implant during recovery–this is a medication which is the size of a grain of rice that sits under the skin and slowly releases a hormonal drug that stops sex hormone production. It is something that she may need to have repeated in the future if she shows signs of becoming hormonal. Should she try to lay again, she is at high risk of getting another egg stuck since she is an older girl who has already had egg binding and is on a seed based diet.
There is a small chance that she could try to lay one more egg before her hormone implant is fully functional. This is only a small risk, and the implant will stop her from laying a full clutch of 3-4 eggs. Her family will be closely monitoring her the next few days for any signs of another egg on the way.
We also reviewed proper touching and areas NOT to touch to avoid hormonal stimulation, as well as discussed working toward improving the nutrition in her diet once she has recovered from her procedure. Her family will be giving her  plenty of pampering and lots of food and water offered free choice to her as she recovers, as she does need to gain back the weight she lost.
She went home on anti-inflammatory pain relievers and antibiotics as there was stool on the walls of the egg, indicating feces had entered the oviduct and could cause infection. We will recheck her white blood cell count in 1 weeks time to ensure that the antibiotics and anti-inflammatories have done their job and her abnormalities have returned to normal .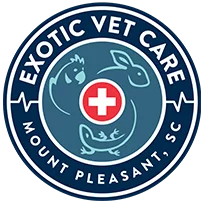 Our exotic animal hospital is dedicated exclusively to the care of birds, exotic small mammals, reptiles, and even fish! We can offer everything your pet needs for a healthy and happy life, from wellness care and grooming to diagnostics and dentistry, but we can also provide emergency care during our opening hours, along with more specialized treatment for referred patients.