Ovarian cysts are very common in female guinea pigs, and we recommend spaying them around 3 months of age to prevent reproductive issues from developing. By the time she was 10 months old, this female guinea pig had already developed two extremely large ovarian cysts. She was scheduled for surgery with us and presented with a painfully distended abdomen. Ovarian cysts were confirmed by ultrasound and were found to be so big they were pushing her organs out of place. She weighed in at 1150 grams when she was being prepped for surgery.
400 grams of tissue and fluid were removed from her abdomen, and after surgery she weighed a svelte 750 grams. For a 150 pound person, that equates to carrying around an extra 50 pounds of fluid and tissue! She did great in recovery and was obviously relieved to have the pressure off of her belly.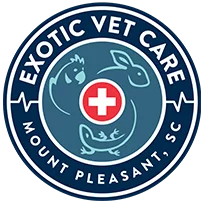 Our exotic animal hospital is dedicated exclusively to the care of birds, exotic small mammals, reptiles, and even fish! We can offer everything your pet needs for a healthy and happy life, from wellness care and grooming to diagnostics and dentistry, but we can also provide emergency care during our opening hours, along with more specialized treatment for referred patients.