While we have decades of surgical experience we understand that for our clients there are no "routine surgeries". The idea of a doctor anesthetizing your pet and performing delicate procedures can be scary for pet owners, so we provide this guide to help you better understand the process of preparing your pet for a safe surgery, the precautions we take to help ensure your pet's stability throughout the procedure, and the steps utilized to provide a comfortable recovery.
Presurgically, every pet should have a thorough physical examination to ensure that he or she is healthy enough for surgery. This exam will include a review of the diet, care, housing, and history of the pet. Any risk factors will be discussed with you, and presurgical diagnostics such as radiographs, bloodwork, or other testing may be recommended and performed.
The day before your pet's scheduled surgery, our receptionist will call you to confirm the procedure, tell you when you drop your pet off the next morning, and give appropriate fasting instructions based on your pet's species.
The morning of surgery, you will bring your pet in a secure carrier or harness and our technician will take your pet back to a prepared incubator where he or she will settle in and relax prior to presurgical treatments (fluid administration, antibiotic injections, pain reliever injections, etc). You will sign a surgical release and leave a deposit equal to the estimated fees for the surgery and care your pet is to receive. You will take your carrier with you when you leave your pet.
When it is time for your pet's surgery, we will administer premedications and place an IV/IO catheter if necessary for fluid support as well as to provide a port to administer intraoperative drugs. Your pet will be comfortably positioned on a heated circulating water or air pad as appropriate to maintain body temperature during the procedure, and may be intubated to ensure easy breathing. Equipment will be attached to monitor your pet's temperature, respiration, oxygen level, and heart rate throughout the surgery. Our doctor and technicians will perform the surgery your pet needs utilizing gentle inhalent anesthesia, specialized equipment, and the most up-to-date techniques to ensure the best outcome and quickest recovery for your pet.
Postsurgically, your pet will be constantly monitored by the doctor or technician until he or she is awake and breathing freely, then moved to a temperature-controlled incubator. We will call you to let you know your pet did well and is waking up comfortably, and at that time we may be able to give you an anticipated time of release. We closely monitor our surgical patients throughout their recovery, providing additional medications and treatments as necessary.
When you arrive to pick up your pet, you will receive an itemized invoice showing all services provided and any variance from the initial deposit will be credited or paid. You will be given written home care instructions and the doctor or technician will show you how to administer any medications your pet may need and advise you of what to watch for as your pet recovers. Before you leave, you will be invited to schedule any follow-up visits for rechecks or suture removal.
Your pet's care does not end when you leave our clinic. Should you suddenly remember a question you forgot to ask, have a concern about your pet's progress, encounter difficulty with the prescribed treatments, or should any other needs arise, we are a phone call away. Our receptionists are knowledgeable and can assist you in many cases, and will have a technician or doctor return your call if the query is beyond their ability to answer.
We hope that this information helps you feel more at ease about your pet's surgical procedure!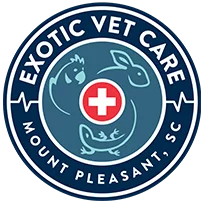 Our exotic animal hospital is dedicated exclusively to the care of birds, exotic small mammals, reptiles, and even fish! We can offer everything your pet needs for a healthy and happy life, from wellness care and grooming to diagnostics and dentistry, but we can also provide emergency care during our opening hours, along with more specialized treatment for referred patients.