"Sparkles" is a teddy bear hamster who was presented to us in December of 2014 as an emergency case. At the time she was 1 1/2 years old and not spayed.  She had a large ulcerated growth under her leg, quite possibly a mammary tumor. Her owner opted for surgical removal of the growth without pathology to determine the nature of the growth. Spaying was recommended to prevent future tumors, but the owner declined at that time.
The surgical removal of the growth went well, but three weeks later a second tumor developed. A second surgery was performed and this time "Sparkles" was spayed as well, in hopes that this would prevent further hormonal stimulation and tumor recurrence.
Unfortunately, three weeks later another mass appeared under her armpit. We removed it and sent a sample for pathology. After analysis, she was diagnosed with Lymphoma, a type of cancer. Though she had been through several surgeries, she is a tough little hamster and did not want to give up. After consulting with her owners, we decided to start chemotherapy in February 2015.
She was treated with injections given 3 weeks apart for a couple of months and has progressed to taking oral chemotherapy every 3 weeks. She is doing better than ever and is treasured by her family as a miracle hamster. We are proud of them for pursuing treatment and saving her life, and proud to be a part of her continuing success. Go "Sparkles"!  The link below is a video showing her taking her oral chemotherapy like a champ.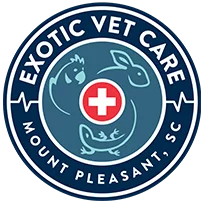 Our exotic animal hospital is dedicated exclusively to the care of birds, exotic small mammals, reptiles, and even fish! We can offer everything your pet needs for a healthy and happy life, from wellness care and grooming to diagnostics and dentistry, but we can also provide emergency care during our opening hours, along with more specialized treatment for referred patients.