Bringing your pet to the veterinarian can seem scary at first, but we strive to make every visit a pleasant and informative one. For those of you who may not have visited our facility, we provide this information to help put you at ease about your upcoming appointment.
You will bring your pet in a secure carrier or harness in time for your scheduled appointment. We have a New Patient History Sheet that may help prepare you for the questions we will ask, if you would like to fill it in and bring it to your appointment. Our receptionist will greet you and your pet and ask you to make yourself comfortable in our welcome area while she informs the technician of your arrival.
Our technician will make sure the exam room is clean and prepared for your pet and will usher you in. The technician will create a record for your pet based on the information you provide (the New Patient History Sheet is helpful, but not necessary) in our computer system and will weigh your pet. Then the technician will let the doctor know you are ready to begin your pet's examination.
The doctor will join you in the exam room and will perform a thorough external physical examination of your pet, including checking the eyes, ears, mouth, nostrils, and vent (anus) as well as evaluating overall body condition and reviewing the diet and care history you provided the technician. He or she will guide you through any recommendations and make sure you have a clear understanding of what needs to be done to resolve any issues of concern and to provide for your pet's long-term care.
In some cases bloodwork, radiographs, or other procedures may be necessary to address issues of concern based on the information provided by you and your pet's condition. Luckily, many of these services can be provided on-site with immediate results to permit rapid diagnosis and treatment.
Any necessary medications or treatments will be administered and you will be instructed on any home care you will need to provide for your pet. Any questions you may have regarding the diagnosis, treatments, or care will be answered and you will be given written care instructions to take home.
You may be asked to wait in the welcome area while medications to go home are prepared, and our receptionist will let you know when the doctor has completed your invoice and process your payment at the front desk. If a follow-up appointment is needed, you will be invited to schedule it at that time.
Our care does not end when you walk out the door. Should you suddenly remember a question you forgot to ask, have a concern about your pet's progress, encounter difficulty with the prescribed treatments, or should any other needs arise, we are a phone call away. Our receptionists are knowledgeable and can assist you in many cases, and will have a technician or doctor return your call if the query is beyond their ability to answer.
We hope that this information helps you enjoy a stress-free and comfortable visit with us!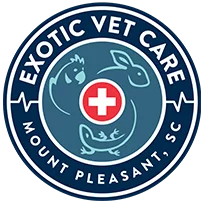 Our exotic animal hospital is dedicated exclusively to the care of birds, exotic small mammals, reptiles, and even fish! We can offer everything your pet needs for a healthy and happy life, from wellness care and grooming to diagnostics and dentistry, but we can also provide emergency care during our opening hours, along with more specialized treatment for referred patients.