"Pooh" is a 41 year old Yellow-Naped Amazon parrot. He came to our clinic because he was having a hard time breathing for a few days prior and had begun breathing with his mouth open. He had greenish discharge from one of his nares, indicating possible infection. In order to safely examine his throat, "Pooh" was sedated. Examination revealed a large growth extending all the way down the throat, and a sample was studied under the microscope. Many bacteria were present, so a cycle of antibiotics was prescribed, as well as anti-inflammatory pain medication. Surgical exploration was scheduled for the following week.
"Pooh"'s surgery went very well: all of the dead tissue was removed, several biopsy samples were taken to find out what we were dealing with, and the area was cauterized to help prevent regrowth. "Pooh"'s owners continued to give him antibiotics and pain medication, and he did well at home, getting more feisty as the days passed. The pathology on the biopsy samples came back as Mucosal Squamous cell carcinoma, a type of cancer.
We went over all of the treatment options with "Pooh"'s family and they decided to treat this cancer aggressively. Laser treatment was selected as the best approach, and our friends at Palmetto Veterinary Hospital permitted us to use their laser unit for the procedure.

photo courtesy of Palmetto Veterinary Care
"Pooh" was dropped off by his family the morning of the procedure and was transported by Dr. Biascoechea to Palmetto Veterinary Hospital where he was sedated, intubated, and prepped for anesthesia. Dr. Biascoechea used the CO2 laser to burn away as much of the affected tissue as possible.

photo courtesy of Palmetto Veterinary Care
"Pooh" recovered well from the procedure, and his family is softening his pellets with juice or water so he can comfortably swallow them, and continues administering his medications as prescribed. The laser treatment will be repeated in 2 weeks, and future treatments may be necessary. "Pooh" is a tough bird, and we are so proud of him and his family for their dedication to his health and comfort.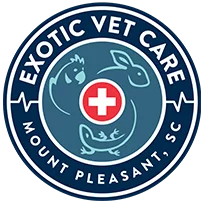 Our exotic animal hospital is dedicated exclusively to the care of birds, exotic small mammals, reptiles, and even fish! We can offer everything your pet needs for a healthy and happy life, from wellness care and grooming to diagnostics and dentistry, but we can also provide emergency care during our opening hours, along with more specialized treatment for referred patients.