"Henry" is a Canada Goose who was struck by a car and left with a broken leg.  Untreated, the leg healed at a 90-degree angle and he was unable to walk or even eat, and would have died without human intervention.  He was rescued and turned over to our local waterfowl rehabilitator, Mr. Ruby of the SC Muscovy Rescue, who immediately scheduled a visit with our doctor.
We had to refracture his leg, remove the callus, realign his bone and all tendons and place 3 pins so he can have a working leg.  He was hospitalized for several days and we are starting physical therapy this week.
Throughout the years Mr. Ruby has supported the SC Muscovy Rescue with his own funds, but even with substantial discounts the cost of procedures like this adds up quickly, and he is taking donations to help ease his financial burden.  Credit card donations may be called in to our clinic at 843-216-8387 (please mention Mr. Ruby and SC Muscovy Rescue) or via his Paypal at ducks836@gmail.com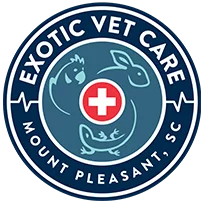 Our exotic animal hospital is dedicated exclusively to the care of birds, exotic small mammals, reptiles, and even fish! We can offer everything your pet needs for a healthy and happy life, from wellness care and grooming to diagnostics and dentistry, but we can also provide emergency care during our opening hours, along with more specialized treatment for referred patients.