Veterinary care is one of the inevitable expenses that comes along with pet ownership, but not one many consider when bringing a new pet into their family. When you are faced with a sudden illness or injury in your pet, it is a relief not to have to stress over how you will cover the expense. Here are a few options to consider so you're never caught unprepared.


For new pets, our VetCare Packages give a lot of bang for your buck. Specially designed to include all the services you need to get your new addition off on the right foot, these packages offer a huge savings on all the basic necessities.
It may sound counterintuitive, but keeping your pet up-to-date on twice-yearly examinations and recommended bloodwork and diagnostics can save you a lot of money in the long run, as well as give your pet a longer, happier life. Keeping tabs on your pet's health, internal and external, is crucial. So much can change in 6 months, and most conditions are both far less costly to treat and respond better to treatment when caught and addressed early, rather than waiting for physical symptoms to manifest or worsen.


Pet Insurance is another option to consider. While it doesn't pay the bill for you, it will reimburse you a portion of the cost of many services, from standard wellness care to spay and neuter to surgery and urgent care.
A pet savings account is a great way to prepare for an emergency, as long as you don't dip into it for other purposes and continue to contribute to it. It does require a level of discipline to save the funds for a rainy day.
Payment plans are also available, and it's good to be familiar with them so you are ready to utilize them in your time of need.
For services exceeding $200, 6 months interest-free financing is available through CareCredit. CareCredit understands that with exotic pets time is of the essence. Your application will take less than 5 minutes to be processed and your account can be used immediately after approval.
LEARN ABOUT CARECREDIT
or
APPLY FOR CARECREDIT
ScratchPay offers 90 day interest-free financing with no credit check or fixed-interest financing for 12 or 24 months.
LEARN ABOUT SCRATCHPAY
or
APPLY FOR SCRATCHPAY


However you fund your pet's care, we are here to provide it. We work hard to make the most of every dollar and prioritize services to do the best for your pet whatever your circumstances. We are here to serve you, and we hope that this information helps you feel prepared no matter what comes your way.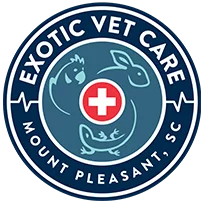 Our exotic animal hospital is dedicated exclusively to the care of birds, exotic small mammals, reptiles, and even fish! We can offer everything your pet needs for a healthy and happy life, from wellness care and grooming to diagnostics and dentistry, but we can also provide emergency care during our opening hours, along with more specialized treatment for referred patients.