CHARLESTON, SC – Jose Biascoechea, a veterinarian from Mt. Pleasant, has successfully maintained certification as a Diplomate of the American Board of Veterinary Practitioners (ABVP) specializing in Avian Practice.
ABVP requires Diplomates to maintain certification every ten years. This process demonstrates that Diplomates have kept up with changes and advancements in veterinary practice. ABVP is unique among veterinary specialties in that certification expires every ten years. Diplomates must take and pass a challenging examination or accumulate credits for continuing education and other professional activities in order to maintain certification.
Dr. Biascoechea is a graduate of the Kansas State University College of Veterinary Medicine. He founded his practice, Exotic Vet Care, in 2000. Dr. Biascoechea became a Diplomate of the ABVP in 2012.
The American Board of Veterinary Practitioners was established in 1978. It is one of twenty-two veterinary specialty groups accredited by a special committee of the American Board of Veterinary Specialties, a division of the American Veterinary Medical Association, to recognize excellence in clinical practice through the certification of species-oriented specialists. Over 900 veterinarians worldwide are certified in one of ABVP's eleven practice categories: Avian, Beef Cattle, Canine and Feline, Dairy, Equine, Exotic Companion Mammal, Feline, Food Animal, Reptile and Amphibian, Shelter Medicine, and Swine Health Management. For more information about ABVP, please visit www.abvp.com.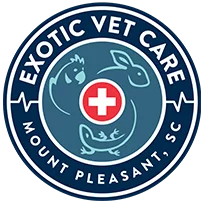 Our exotic animal hospital is dedicated exclusively to the care of birds, exotic small mammals, reptiles, and even fish! We can offer everything your pet needs for a healthy and happy life, from wellness care and grooming to diagnostics and dentistry, but we can also provide emergency care during our opening hours, along with more specialized treatment for referred patients.