Honeybun and Cumberbun are adorable brothers. These two Holland lops have known each other since they were born and seemed to be doing just fine with one another. About 5 days ago a little blood was seen in their cage, and their owner thought perhaps Honeybun had caught his nail on something. She took a closer look a few days later and spotted a bit of a problem on his underside and brought him right in. It appears that Honeybun and Cumberbun are starting to feel their hormones. Despite mom not seeing any kerfuffles, poor Honeybun had been bitten by Cumberbun in a rather sensitive spot.


Honeybun had an urgent castration since there was necrotic (dead) tissue present and recovered quickly. His brother came in the day after for the same treatment! The two brothers will be allowed to recover in separate enclosures next to each other so that they do not lose their bond—but so that their hormones can drop before they can physically touch one another again.


Neutering is generally recommended in boy buns to help prevent urine marking, humping and potentially fighting with other rabbits (or getting lady buns pregnant). After a few weeks, these brothers should be ready to play safely together again.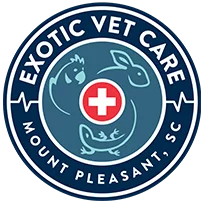 Our exotic animal hospital is dedicated exclusively to the care of birds, exotic small mammals, reptiles, and even fish! We can offer everything your pet needs for a healthy and happy life, from wellness care and grooming to diagnostics and dentistry, but we can also provide emergency care during our opening hours, along with more specialized treatment for referred patients.