The weather this winter has been unusual, to say the least. It has fluctuated between unseasonably warm and unseasonably cold. While this may take its toll on your heating and air bill, it is also having an impact on sea turtles, many of whom are becoming cold-stunned in waters up and down the East Coast. Dr. Biascoechea has been assisting the South Carolina Aquarium in assessing the condition and needs of turtles transferred from facilities overwhelmed by the influx of hypothermic reptiles.

photo courtesy South Carolina Aquarium.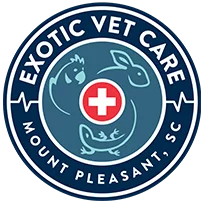 Our exotic animal hospital is dedicated exclusively to the care of birds, exotic small mammals, reptiles, and even fish! We can offer everything your pet needs for a healthy and happy life, from wellness care and grooming to diagnostics and dentistry, but we can also provide emergency care during our opening hours, along with more specialized treatment for referred patients.