This 5 1/2 year old female leopard gecko was referred to us from another veterinary clinic after being presented to them with a bloated belly and weight loss in the tail, despite having laid eggs 2 weeks prior. The owner noted a white spot visible on the abdomen, which upon physical examination was determined to be a retained egg. We performed an ultrasound and found 2 large retained calcified eggs and 1 follicle on each ovary, as well as immature follicles in the reproductive tract. As infection was a concern, she was prescribed oral antibiotics and her owner scheduled surgery with us.
There are no small surgeries, only small patients. Our Medical Director Alberto carefully preps this gecko for surgery, premedicating and intubating her so that we can assist her breathing if needed, positioning her comfortably on a warm-water circulating pad to regulate her temperature, and utilizing a Doppler to monitor her heart rate.
Delicate surgery requires a steady hand and special tools, including microsurgical loupes to bring things into crystal-clear focus.
Careful incisions through the skin and muscle reveal the first calcified egg.
The first egg and ovary are carefully extracted from the body cavity. The ovarian pedicle is clipped off with hemoclips and the ovary removed.
The second egg and ovary are extricated in the same manner, and the reproductive tract removed before the abdomen is thoroughly lavaged to prevent infection.
This gecko girl is so svelte postsurgically and ready for her close-up.
She recovers with the technician and Doppler carefully monitoring her as she awakens.
Within minutes, she is up and giving a wary eye to the unwanted bits we removed. An audible sigh of relief is heard as she is transferred to her incubator to fully awaken before going home later that afternoon. She has been given tender loving care by her family as she heals at home and will be back in 4 weeks for suture removal. We are so thrilled to have given her a new lease on life, and relieved her of a most unpleasant burden.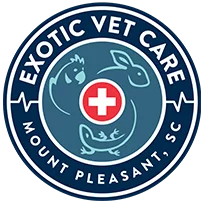 Our exotic animal hospital is dedicated exclusively to the care of birds, exotic small mammals, reptiles, and even fish! We can offer everything your pet needs for a healthy and happy life, from wellness care and grooming to diagnostics and dentistry, but we can also provide emergency care during our opening hours, along with more specialized treatment for referred patients.