When your pet needs a medication, he needs it right away. We fill initial prescriptions in-house so you have what you need to start your pet's treatment immediately and get on the road to recovery. When you are running low, authorized medication refills can be requested with just a few clicks via our VetPawer App. All of your pet's medications will appear in their history and requesting a refill is quick and easy. You'll receive a text when your refill is ready. Get the App by using the links below:
Many clients enjoy the convenience of shopping online and having products delivered directly to their door. We want to offer the best customer service as well as help you find the best pricing for your pet's medications. To make your life easier, we have an Online Pharmacy. It can be found here:
https://exoticvetcare.myvetstoreonline.pharmacy/
In addition to offering many of the prescription medications we carry and dispense in our facility, our Online Pharmacy offers a wide selection of supplements, toys, treats, and other supplies we cannot physically house in our clinic for both exotic pets and and dogs and cats. We'd love to be your one-stop shop for all your pets' needs, and we price our products to be competitive with other online providers.
Our Online Pharmacy provides purchase options we cannot offer in-clinic including individual doses of flea, tick, and heartworm control products as well as of certain medications. Because these items are stocked and dispensed by My Vet Store Online, they are able to offer free shipping on many single-dose items, and they are able to offer all the most popular brands of products while we carry only the select few that we use most often in clinic.
We operate our Online Pharmacy through My Vet Store Online because it is a veterinary-exclusive pharmacy and only dispenses products that come directly from US veterinary vendors. We have no control of what sources other pharmacies are using nor the quality control standards used when they purchase and dispense their products.
You can order from our Online Pharmacy without setting up an account, though we encourage you to Register to make keeping track of your prescriptions and providing refills faster and easier for you. Registering is as simple as providing your email and choosing a Username and Password. You can start shopping right away!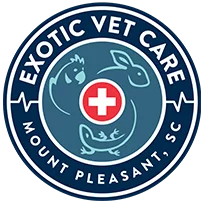 Our exotic animal hospital is dedicated exclusively to the care of birds, exotic small mammals, reptiles, and even fish! We can offer everything your pet needs for a healthy and happy life, from wellness care and grooming to diagnostics and dentistry, but we can also provide emergency care during our opening hours, along with more specialized treatment for referred patients.