We are incredibly proud to announce our Associate Veterinarian Dr. Abby Duvall has become South Carolina's second Board-certified Diplomate in Avian Practice. Dr. Biascoechea is the first. This is a huge achievement, and required a lot of dedication and study. Congratulations, Dr. Duvall!
ABVP CERTIFIED VETERINARIAN IN AVIAN PRACTICE 

Charleston, SC — Abby Duvall, DVM, of Mount Pleasant, SC has been certified as a Diplomate by the American Board of Veterinary Practitioners (ABVP) specializing in Avian Practice. There are only 96 ABVP Avian Diplomates in the world, with only 85 practicing in the United States.
Dr. Duvall mastered a rigorous and demanding application process and certification examination in order to obtain Diplomate status. To qualify to sit for the extensive examination, a veterinarian must complete either a residency program or six years of clinical veterinary practice. In addition, two case reports, references, descriptions of practice procedures, and professional education records must be submitted and pass review. This year's examination was given in October.
Dr. Duvall obtained her DVM from Cornell University. Afterward, she completed a Rotating Small Animal Internship at Louisiana State University and an Avian and Exotic Residency at The University of Tennessee.  At Exotic Vet Care we are very privileged to have her as  our second board-certified specialist.
The American Board of Veterinary Practitioners was established in 1978. It is one of twenty-one veterinary specialty groups accredited by a special committee of the American Board of Veterinary Specialties, a division of the American Veterinary Medical Association, to recognize excellence in clinical practice through the certification of species-oriented specialists. Over 900 veterinarians worldwide are certified in one of ABVP's eleven practice categories. For more information about ABVP, please visit www.abvp.com.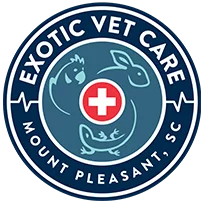 Our exotic animal hospital is dedicated exclusively to the care of birds, exotic small mammals, reptiles, and even fish! We can offer everything your pet needs for a healthy and happy life, from wellness care and grooming to diagnostics and dentistry, but we can also provide emergency care during our opening hours, along with more specialized treatment for referred patients.