Many people are talking about coronavirus in ferrets, cats, and other animals, and some are surrendering their pets to shelters out of fear. This fear is unfounded, and we want to help ease your concerns. You should take the same precautions with them as with family members, and should you note any respiratory signs in your pet, contact your veterinarian immediately. We are here for you!
This article is very reassuring, so we want to share it with everyone.
For those who don't want to read a lot, the most important take-away is:
"Specifically, while a person infected with COVID-19 is symptomatic, they should maintain separation from household animals as they would with other household members, and avoid direct contact with pets, including petting, snuggling, being kissed or licked, sleeping in the same location, and sharing food…If possible, another household member should be designated to care for pets in the home and should follow standard handwashing practices before and after interacting with the household animal. If a person with COVID-19 must care for pets, they should ensure they wash their hands before and after caring for pets."
—Centers for Disease Control,Interim Guidance for Public Health Professionals Managing People with COVID-19 in Home Care and Isolation Who Have Pets or Other Animals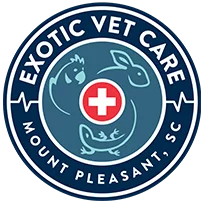 Our exotic animal hospital is dedicated exclusively to the care of birds, exotic small mammals, reptiles, and even fish! We can offer everything your pet needs for a healthy and happy life, from wellness care and grooming to diagnostics and dentistry, but we can also provide emergency care during our opening hours, along with more specialized treatment for referred patients.