Dr. Biascoechea recently worked with Dr. Shane Boylan and a team of biologists at the South Carolina Aquarium on a male sand tiger shark that had been circling in the SCA's ocean tank for several weeks.
They anesthetized him, performed a comprehensive physical exam, an ultrasound, took blood samples and also took radiographs which showed some lesions on the spinal cord. His long term prognosis is guarded at this time but they are working on a treatment plan.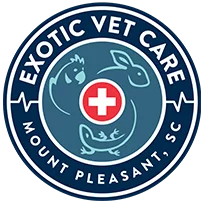 Our exotic animal hospital is dedicated exclusively to the care of birds, exotic small mammals, reptiles, and even fish! We can offer everything your pet needs for a healthy and happy life, from wellness care and grooming to diagnostics and dentistry, but we can also provide emergency care during our opening hours, along with more specialized treatment for referred patients.