In July, the South Carolina Aquarium brought a Kemp's ridley turtle to our clinic because it had been hooked by a fisherman and swallowed the hook. Dr. Biascoechea surgically removed the hook and the turtle was returned to the Turtle Hospital at the Aquarium for continued care. We recently received the good news that "Blu" is recovering well and will be ready to return to the ocean in about 3 weeks. We are proud to serve the South Carolina Aquarium and to be able to help our ocean's wildlife stay wild!

For more information on "Blu", click here: http://www.scaquarium.org/blu/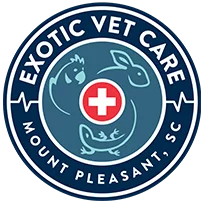 Our exotic animal hospital is dedicated exclusively to the care of birds, exotic small mammals, reptiles, and even fish! We can offer everything your pet needs for a healthy and happy life, from wellness care and grooming to diagnostics and dentistry, but we can also provide emergency care during our opening hours, along with more specialized treatment for referred patients.