The most important thing you can do before bringing a new pet into your home is research. Unfortunately, there are so many sources of outdated or conflicting information, it can be intimidating to attempt to educate yourself, and the difference between good and bad information can mean life or death for an exotic pet. We offer prepurchase consults to educate you on the needs and demands of a pet before you bring it into your family.
A prepurchase consult with one of our veterinarians will help you determine if that adorable animal you met at the pet store, saw on TV, or want to rescue will be a good match for your situation.  Our goal is to help prevent problems before they arise, and help keep pets out of the adoption/relinquishment cycle.
At your prepurchase consult appointment, the doctor will ask you about the type of pet you are considering and what brought you to that decision.  The doctor will ask you about your routine, allergies or health issues, time and resources to invest in your pet's care and enrichment, and what you are looking for out of your relationship with the pet.  The dietary, housing, lighting, and other husbandry needs of the pet will be reviewed with you, as well as the typical lifespan and medical needs such as spaying/neutering, common health issues of the species and how they are addressed.
If the pet you were considering does not turn out to be a good fit, the doctor may recommend other types of pets that may better suit your situation.  If the pet is a great match, you will leave with proper care information to get your new pet started off on the right foot (or belly, for our legless friends) and an account credit for $20 off your new pet's first-time physical examination, which we recommend be performed as soon as possible after bringing your new addition into the family.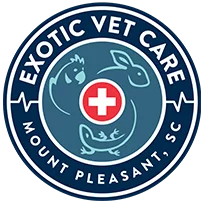 Our exotic animal hospital is dedicated exclusively to the care of birds, exotic small mammals, reptiles, and even fish! We can offer everything your pet needs for a healthy and happy life, from wellness care and grooming to diagnostics and dentistry, but we can also provide emergency care during our opening hours, along with more specialized treatment for referred patients.